Alle Ginestre
(Bed & Breakfast)
Anacapri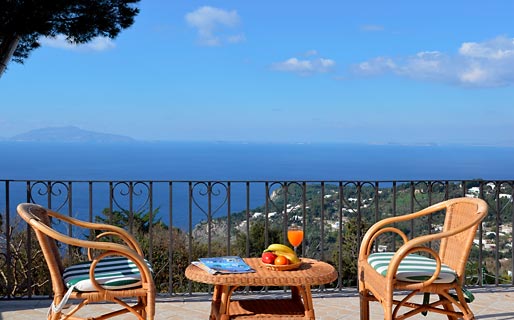 Your Mediterranean home-from-home, on the slopes of Monte Solaro
Three reasons why you'll love it here

Finally, an affordable holiday on the island of Capri!
The countryside of Anacapri, on your doorstep
The view of the Bay of Naples, from the terrace
A delightful, family-run Bed & Breakfast, Alle Ginestre provides holiday makers with a gloriously peaceful and surprisingly affordable island retreat - in Anacapri.
Monte Solaro and the Migliera
Resting on the flower strewn slopes of Monte Solaro, on the path which leads to the spectacular "Migliera" viewing point, B&B Alle Ginestre is the ideal choice for those eager to experience the island's beautiful land and seascapes.
From the bed & breakfast's sweeping terraces guests enjoy unforgettable views of the Bay of Naples and of the sun setting over the island of Ischia

Simply beautiful
Alle Ginestre provides guest accommodation in just a handful of air conditioned bedrooms, all tastefully furnished in classic island fashion. Internet wi-fi is free.
The B&B is situated a mere 100 meters away from the internationally renowned "Gelsomina" restaurant. Here, holidaymakers can savor delicious local cuisine or spend a few hours relaxing by the panoramic swimming pool.
A free shuttle service to and from the center of Anacapri is available on request.
Alle Ginestre facilities
Outdoor facilities
Rooms
Rooms for families
Free Wi-fi
Air Conditioning
Safety deposit box
Hair dryer
Alle Ginestre
What the travellers said