Capri Location Service
(Cinema and Television)
Capri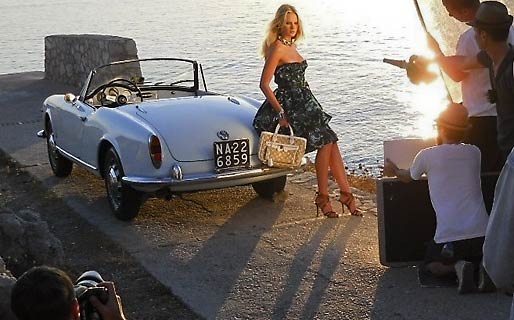 Cinema, television and commercials in Capri
Capri Location Service carries out the initial task of locations research and oversees the management of the practical and logistical needs for cinema and TV production companies, as well as for fashion photo-shootings and events.
Run by Michela Giovinetti, Location Manager, graduated in "Cinema and Television Production" at the "Centro Sperimentale di Cinematografia" in Rome, that has worked with some of the most important Production Companies that have choosen the island of Capri as a unique and magical location.
In collaboration with Capri Film Commission, she is able to find the ideal location and the best solution for the logistical needs, including accomodations, permits, transports, casting and others.
Recently she has worked on:
Ermenegildo Zegna, spot - Production: Panorama Films
Fix Design, spot - Production: Videotime-Publitalia
American Express, spot - Production: Sawyer Production
Luois Vuitton, photo shooting - Production: Chico Paladino Production
Gant, photo shooting - Production: Maria Lindberg Production
"Capri"I -II-III edition, tv movie - Production: Rizzoli-Rai Fiction
Un'estate al mare, film by Carlo Vanzina - Production: International Video80
Villa Amalia, film by Benoit Jacquot - Produzione: Rectangle-Urania Film
Krupp, film by Carlo Rola - Production: ZDF Television
The doctor of Capri, tv-movie - Production: ZDF Television