Capri's
(Restaurants)
Capri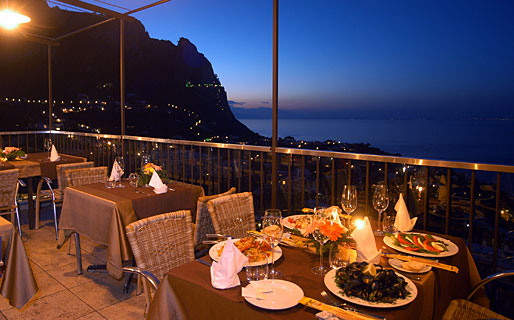 Casual chic, close to the Piazzetta
Enjoy a drink after a day long excursion
Dine beneath the stars
The pizza as you prefer
A relatively new entry to the island's culinary scene, Capri's restaurant and bar is situated just a stone's throw away from the Piazzetta and boasts fabulous views over the Bay of Naples, Mount Vesuvius and the islands of Ischia and Procida.
Mediterranean munches
The artistic flair of one of Capri's most highly acclaimed chefs ensures that guests have the opportunity to relish the best of Mediterranean cuisine, wonderful dishes made with only the freshest fish and highest quality local produce.
An impressive range of pizzas are prepared by the talented pizza chef, from age old favourites such as the pizza margherita to innovative concoctions made to satisfy customers' every taste and fancy.
Lovers of the sweeter things in life will find it hard to resist the temptations of the pastry kitchen, and Capri's mouth-watering ice-creams, wickedly delicious mousses, and exquisite tartlets

Casual chic - just like Capri!
Capri's welcomes clients in a pleasant, informal environment: lively and sunny during the day, intimate and romantic at night when the melodies of soft music accompany the spectacular vision of the sun setting over the sea.
A great dining venue for those wishing to celebrate a birthday, anniversary or other special occasion in true island style, Capri's provides excellent facilities for private business and social events: from corporate lunches to intimate wedding receptions.
Opening times: 7.00 am - 12.00 pm

Closure days:
Open 7 days a week. Close from November to Easter