La Casa di Viola
Bed & Breakfast
Via Posterula, 19

-

Capri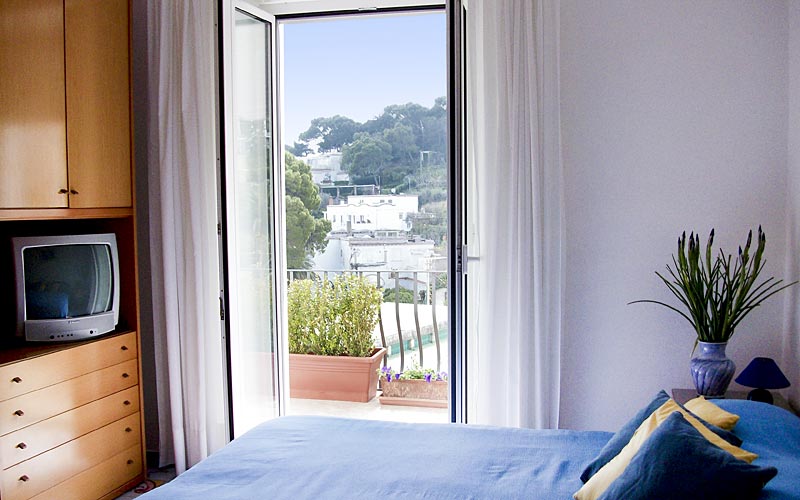 Just one room, your room, in a house in the heart of Capri
La Casa di Viola
A B&B all for you, just a few meters from the Piazzetta
Breakfast and sundowners on your balcony
An unbeatable location, in the historic center of Capri
If you have always dreamed of a holiday on Capri, but your budget won't stretch to a vacation in one of the island's luxury hotels or sumptuous villas, then you'll love La Casa di Viola.
Situated on a little lane in the historic center of Capri, only a few meters away from the Piazzetta, this conveniently priced bed and breakfast is a real find

The one and only
At La Casa di Viola guest accommodation is available in just one spacious bedroom. The B&B is, above all, an authentic family home, where guests are welcomed like old friends.
The bedroom is tastefully decorated and equipped with air conditioning, television, and even wireless internet connectivity.
Breakfast on the balcony
Guests start the day with breakfast on their bedroom balcony, overlooking the garden. This is where guests can soak up the morning sun, enjoying a cup of rich Italian coffee, before heading off to the beach or the island's designer fashion shops.
In the evening, the balcony provides the perfect spot in which to relax, caressed by the warm sea breeze.
Bang in the center
A vacation at La Casa di Viola is an opportunity to experience a taste of authentic island life and, at the same time, to visit all of Capri's most-loved tourist attractions.
The Piazzetta, famous for its fashionable pavement cafes, the elegant boutiques and restaurants of the historic center, the Charterhouse of San Giacomo, the panoramic terraces of the Gardens of Augustus and the spectacular Via Krupp, are all just a short stroll away.