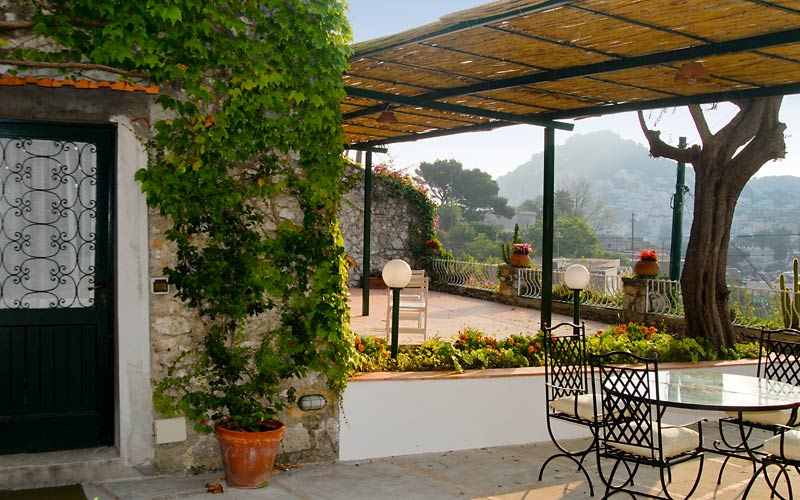 Your villa with view of the sea... and the Piazzetta!
La Josie
The view of the Piazzetta and marina Piccola, from the terrace
A villa in Capri for the whole family, and a few friends too!
A home-from-home with all your favorite creature comforts
If you're looking for a home-from-home on Capri, you'll love La Josie, which has all the features of the island's traditional villas, and the added bonus of a large terrace overlooking the Piazzetta and the bay of Marina Piccola.
Life on the terrace
The panoramic terrace, festooned with brightly colored bougainvillea, is the true heart of the villa and an idyllic spot in which to enjoy an open air breakfast, light lunch, or leisurely evening meal.
Here, in the shade of La Josie's characteristic pergola, guests pass great part of the day. Next to the villa there is also a delightful little garden.
At home, in Capri
Villa La Josie is a two storey building. On the first floor there is a spacious living room featuring a large open fireplace, a dining room with wide screen television, a fully equipped kitchen complete with dishwasher, a bathroom, and a single bedroom: this latter especially suitable for a member of staff. Outside, there is a laundry with washing machine.
The ideal location for a holiday with the family, La Josie sleeps up to 7 adults, in 3 doubles and 1 single room

Comfort, with a view
La Josie's three double bedrooms and two main bathrooms are situated on the first floor of the villa. Each room is furnished with double bed in wrought iron, fitted wardrobe, and television.
The entire villa is served with highly efficient acclimatization system. From the large terrace, accessed directly from the bedrooms, breathtakingly beautiful views of the sea surrounding Capri can be admired.
Stay in a gorgeous early 20th century villa
The garden with colonnade: 100% Capri!
You're just steps away from the Piazzetta!
The central location near the Gardens of Augustus
An independent pied-à-terre on Capri
A private terrace to relax outside
Relax in the garden of your Capri home
Savor the silence of the Matermania hills
Enjoy the warm hospitality of a local family