Parco Augusto
(Bed & Breakfast)
Capri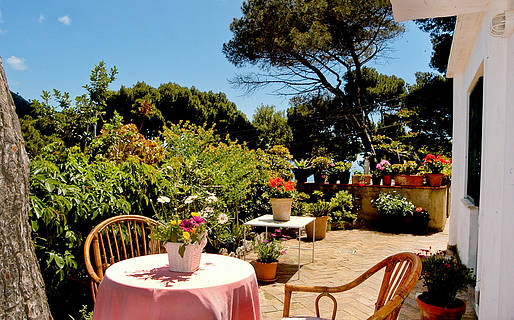 Your home-from-home by the Gardens of Augustus
Three reasons why you'll love it here

You're just steps away from the gardens overlooking the Faraglioni
Take breakfast in the morning sun, on the terrace
You'll feel just like at home, only in Capri!
The cliff edge Gardens of Augustus, from where a magnificent view of the Faraglioni can be seen, are just outside the door; as are the amazing Via Krupp and the Charterhouse of San Giacomo.
The Piazzetta is only a 5 minute stroll away. With a location like that, it's no wonder Capri's B&B Parco Augusto is such a popular place to stay!
An island home, in Capri
If Capri's glamorous 5 star resorts are not your scene; if you'd rather stay in a small, friendly and conveniently priced hotel, a B&B is the perfect choice.
If you like the idea of a centrally located B&B, with comfortable, clean rooms, and, why not? pretty flower-decked balconies too - then you're going to love Parco Augusto!
Supersaver? Stay at B&B Parco Augusto in September or October - and make the most of fabulous special offers

A B&B, by the "Emperor's gardens"
Breakfast is served on the terrace, bathed in the morning sun which filters through the pine trees in the Gardens of Augustus, which are situated directly opposite.
Central as it may be, the B&B is incredibly peaceful, making it the ideal place in which to relax after a day spent mucking about on the nearby beach of Marina Piccola or exploring the towns of Capri and Anacapri.
Parco Augusto B&B is closed. Re-opening: April 2014

Parco Augusto
What the travellers said