La Casa nel Bosco
House rental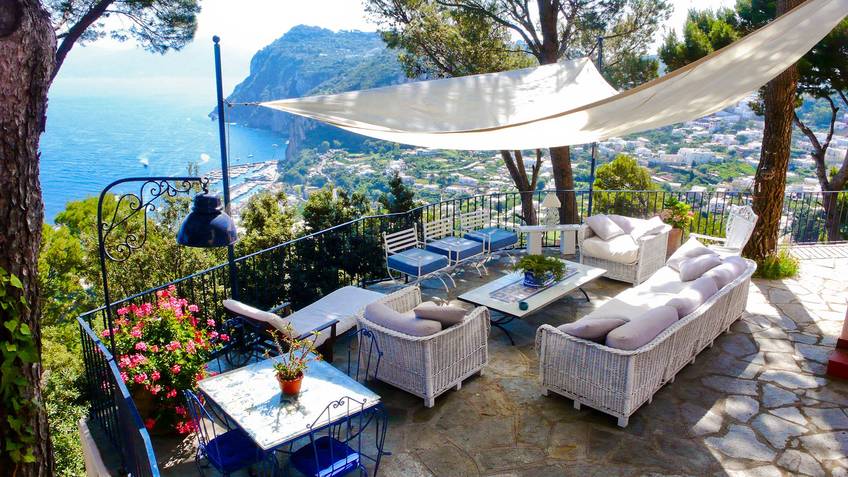 Take a 19th century hunting lodge, transform it into a holiday home, add a spectacular view of the Bay of Naples and the vicinity to the Piazzetta, and you've got Capri's La Casa nel Bosco, The House in the Woods!
The simple pleasures of life
If you like the idea of organizing an al fresco lunch or pizza party, you'll love the villa's generously sized terrace, equipped with wood burning oven and barbecue.
For moments of blissful relaxation, there's a heated mini-pool with counter-current swimming, a Jacuzzi and panoramic solarium complete with sun loungers and showers.
The House in the Woods is available for single let only. A minimum one week stay is required (how could you possibly stay for less?)

Home sweet home
The heart of the house, the light-filled lounge is equipped with stereo, satellite television and internet connectivity. In the large, country-style kitchen you'll find everything you'll need to whip up an authentic Mediterranean feast.

After a busy day spent mucking about on the beach or walking along Capri's beautiful coastal paths, what can be better than a good night's sleep? At La Casa nel Bosco, you'll snooze sweetly in wonderfully comfortable bedrooms (there are 3 double and 3 single rooms), all of which come with a range of hotel standard amenities.
The best room in the house? The "superpanoramic" suite, with king size bed, sitting room, bar, TV, Hi-Fi, and terrace

I don't want a garden, I want a wood!
As the name suggests, the villa is surrounded by a wood: a beautiful 5000sqm wood. Privately owned, the wood is traversed by little paths along which you, and your pet dog if you have one, can happily roam!
Stay in a gorgeous early 20th century villa
The garden with colonnade: 100% Capri!
You're just steps away from the Piazzetta!
The central location near the Gardens of Augustus
An independent pied-à-terre on Capri
A private terrace to relax outside
Relax in the garden of your Capri home
Savor the silence of the Matermania hills
Enjoy the warm hospitality of a local family