Villa La Conchiglia
House rental
Via Dalmazio Birago, 23 Nr 1

-

Capri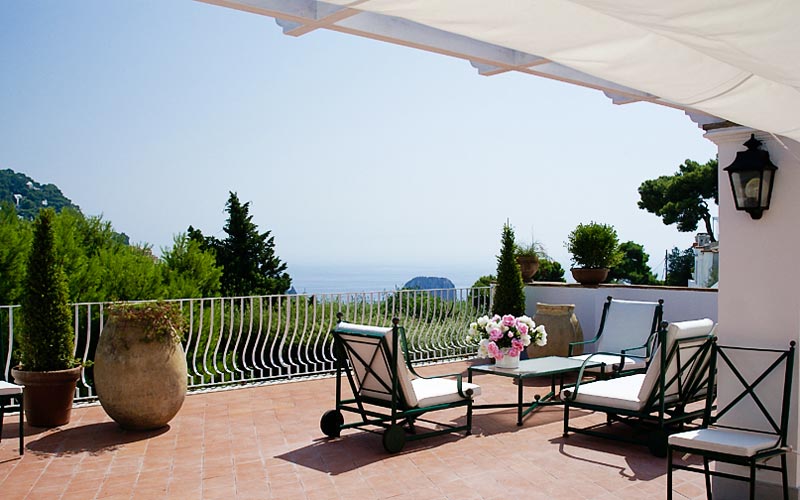 A villa, a pool and a terrace with view of the Faraglioni: luxury - Capri style!
Villa La Conchiglia
The Faraglioni seen from a terrace in the center of Capri
A villa with garden and pool, within steps of the Piazzetta
Open air living area with barbecue: let the party begin!
A villa with pool and view of the Faraglioni slap bang in the center of Capri? The kind of stuff dreams are made of.The kind of stuff you'll find at Villa La Conchiglia!
You'll have a hard time finding another villa or hotel in Capri as beautifully located as Villa La Conchiglia, an elegant residence set in gorgeous gardens, with pool, sun decks and a spectacular terrace overlooking the island's legendary sea stacks.
Luxury in Capri
Situated in what is widely considered to be the chicest part of Capri, just a few meters behind the Piazzetta, Villa La Conchiglia has all the features of the island's most prestigious private homes, together with a full range of contemporary, hotel-standard amenities.
The villa has 3 double bedrooms and 2 suites, each with its own private bathroom: making the villa the perfect choice for an unforgettable holiday with family or friends (or both!). The suites have a sitting room with sofa bed. Bed and bath linen is changed every two days.
A couple of days, a week or longer ? You can stay as long as you choose but, remember, Villa La Conchiglia is available for single let only

Your island home
The villa's garden adds yet further to La Conchiglia's appeal. A swimming pool, solarium, outdoor lounge area and a terrace with view of the Faraglioni: what more could you possibly want?
Inside and out, from dawn until dusk (and beyond): living the luxury lifestyle is easy at Villa La Conchiglia.
Luxury on demand. A personal chef, a massage or a dinner party? At Villa la Conchiglia, all you have to do is ask!

Everything you need
Just like home. Your luxurious home on the island of Capri. At Villa La Conchiglia you'll find everything you need for a dream holiday.
The large kitchen, elegantly furnished sitting rooms, the dining room, the barbecue and wood burning oven: every corner of Villa La Conchiglia has been designed with your comfort and pleasure in mind.
Outdoor facilities

Swimming pool
Events

Weddings
Stay in a gorgeous early 20th century villa
The garden with colonnade: 100% Capri!
You're just steps away from the Piazzetta!
The central location near the Gardens of Augustus
An independent pied-à-terre on Capri
A private terrace to relax outside
Relax in the garden of your Capri home
Savor the silence of the Matermania hills
Enjoy the warm hospitality of a local family