Villa Solaria
House rental
Via Tragara, 18 D

-

Capri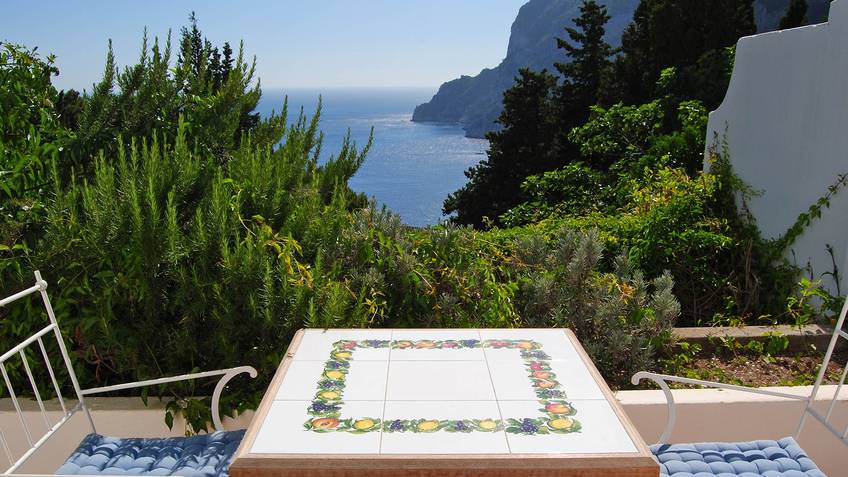 Your luxury villa between the Piazzetta and the Faraglioni
Villa Solaria
See the sea surrounding Capri - from your bed
The terrace with a view of Marina Piccola
The comfort of Capri's hotels, the warmth of the island's homes
Lovely, light-filled rooms, a series of panoramic terraces, and unforgettable views of the bay of Marina Piccola: luxury Villa Solaria has everything a dream home on Capri should have.
Life on the terrace
Stay at Capri's Villa Solaria and you'll no doubt spend much of your time on the villa's gorgeous, sun-kissed terrace.
The perfect place for sunbathing, snoozing, chatting or dining al fresco, the fully furnished terrace enjoys marvelous views of Marina Piccola and the sea surrounding Capri.
See the sea, from your bed
Imagine waking up in the morning and, without even having to leave your bed, being greeted by the sight of the sea washing the bay of Marina Piccola. Imagine staying at Capri's Villa Solaria!
Villa Solaria's rooms are available for minimum stays of one week (how could you possibly stay on the beautiful island of Capri for any less?)

Villa Solaria has two double bedrooms, each with its own bathroom. One bedroom opens out onto a terrace, the other onto a pretty balcony.
The smallest of the villa's sitting rooms can be easily transformed into a third bedroom, complete with adjoining bathroom.
At home, on Capri
If you enjoy cooking you're going to love Villa Solaria's kitchen, which has everything you might possibly need to whip up a veritable feast of Mediterranean goodies! What's more, if you send the owners a shopping list before you start your journey to Capri, they'll make sure the fridge is full for when you arrive.
Rather somebody else did the cooking while you relax? You can request the services of a personal chef for a night, or the duration of your stay

Whether you want a speedy airport transfer or a leisurely boat trip: stay at Villa Solaria and all you have to do is ask!
Relax in the garden of your Capri home
Savor the silence of the Matermania hills
Enjoy the warm hospitality of a local family
The central location near the Gardens of Augustus
An independent pied-à-terre on Capri
A private terrace to relax outside
Stay in a gorgeous early 20th century villa
The garden with colonnade: 100% Capri!
You're just steps away from the Piazzetta!