All the offers available in Capri's hotels, resorts and b&bs
An unbelievable last-minute offer, an incredible early-bookingdiscount, an amazing package with a whole lot more than just hotel accommodation and breakfast... there's always a good reason to treat yourself to a holiday on the island of Capri!
Check out the special offers and book your dream holiday on Capri ...now!
Next 30 days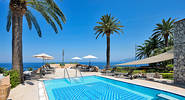 Villa Marina Capri Hotel & Spa presents an exclusive opportunity to enjoy a romantic and unique experience and invites you to discover the "Art of Tailor Made Capri Sandals" in one of our Prestige double rooms or a Suite. One of the most "Luxury brands" of the Island will make... (details)
Valid from 16 Apr 2015 to 17 Oct 2015
from € 1,000.00 (per night per room)
Villa Marina Capri Hotel & Spa invites you to live the most unique, romantic and charming experience in Capri, giving you the opportunity to discover the famous "Isola Azzurra" and all its beauties. We will be delighted to cuddle you from the moment of your arrival until your... (details)
Valid from 1 Jun 2015 to 15 Sep 2015
from € 1,033.00 (per night per room)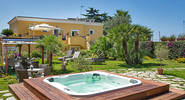 ... enjoy a culinary itinerary through the street of the fabulous Anacapri during the second edition of the Pizza Jazz Capri Birra Artigianale! INCLUDED IN THE OFFER: - 3 NIGHTS - 2 TICKETS FOR THE PIZZA JAZZ - BOTTLE OF PROSECCO IN ROOM ON ARRIVAL - A DINNER AT THE RESTAURANT "... (details)
Valid from 12 Jul 2015 to 16 Jul 2015
from € 166.00 (per night per room)
Book a room in our hotel at very last minute rate Double room comfort with private terrace sea view Airconditioning Buffet breakfast On request half board in typical italian restaurant with free pick up service
Valid from 2 Aug 2015 to 12 Aug 2015
from € 120.00 (per night per room)
Last room available!