All the offers available in Capri's hotels, resorts and b&bs
An unbelievable last-minute offer, an incredible early-bookingdiscount, an amazing package with a whole lot more than just hotel accommodation and breakfast... there's always a good reason to treat yourself to a holiday on the island of Capri!
Check out the special offers and book your dream holiday on Capri ...now!
Next 30 days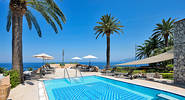 Villa Marina Capri Hotel & Spa presents an exclusive opportunity to enjoy a romantic and unique experience and invites you to discover the "Art of Tailor Made Capri Sandals" in one of our Prestige double rooms or a Suite. One of the most "Luxury brands" of the Island will make... (details)
Valid from 16 Apr 2015 to 17 Oct 2015
from € 1,000.00 (per night per room)
Are you planning a holiday to capri ? Book right now our hotel .... last minute rate for a comfort double euro 90 ( rate is per two person) Full breakfast buffet Wi-fi access direct from the room Upgrade in a comfort double with private terrace (only if available) Rate is valid... (details)
Valid from 1 May 2015 to 31 May 2015
from € 90.00 (per night per room)
Last 3 available!
2 nights stay for 2 people in a standard double room, including buffet breakfast,shuttle service on arrival and departure ... book now and pay on arrival!
Valid from 3 Jun 2015 to 5 Jun 2015
from € 120.00 (per night per room)
Book a 2 night stay in September: Double room with breakfast, shuttle service In & out and bottle of local wine, book now ! no week end
Valid from 1 Sep 2013 to 3 Sep 2015
from € 120.00 (per night per room)