'A Pazziella
(4 Star Hotels)
Capri
This hotel is no longer part of the
Capri.com collection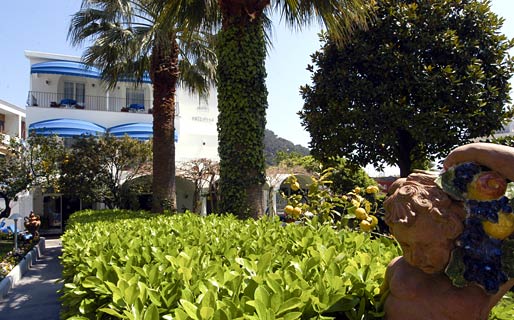 'A Pazziella
Via Fuorlovado, 36

-

Capri
Tel.

+39 081 8370044
,
Fax

+39 081 837 0085
Beautiful inside and out
Three reasons why you'll love it here

A peaceful oasis, 200m from the Piazzetta
An elegant aperitif, beneath the lemon trees
A relaxing massage - in the garden!
You've only just left the Piazzetta and started walking along one of the picturesque lanes which wind their way through the historic center of Capri when, between the boutiques and restaurants you spy a little path and a magnificent display of Mediterranean flowers. You've just found Hotel 'A Pazziella!
Home is where the heart is
Looking more like a privately-owned villa than a hotel, with its light-filled lobby and lounge, floors tiled in hand-painted majolica, sunny terraces and and graceful arches, 'A Pazziella has all the features of Capri's most elegant homes.
The same effortless elegance which characterizes the hotel's public rooms can be found in the bedrooms and suites, all of which have a full range of 4 star amenities (including free Wi-Fi) and their own balcony or terrace.
Capri's secret garden
The perfect place in which to relax during the hottest hours of the day, the hotel's peaceful garden has a large swimming pool and a number of secluded spots in which to chat, read or snooze!
Snacks and light lunches are served in the shade of 'A Pazziella's lemon trees.
Shiatsu on demand. Treat yourself to a fabulous al fresco massage in the garden!

La Pazziella, en plein air
'A Pazziella's generous breakfast, served on the pretty, flower-decked patio overlooking the garden, is just what you need to set you up for a day spent on the beach or exploring Capri.
As the day draws to a close, the same terrace provides the romantic setting for a leisurely sunset aperitif.
Looking for a great place for a tasty lunch or a romantic dinner? Within steps of the hotel, you'll find 'A Pazziella's partner restaurant: Ristorante D'Amore. Half and full board meal plans are available on request