Buca di Bacco
Restaurant €€€

Taste
Via Longano, 35

-

Capri
-
See map
Buca di Bacco
+39 081 8370723
Email:
Buca di Bacco
The famous pizza "sfilatino"
Pretend to be in the first decades of 20th century
Reserve the table next to the panoramic window
Closed: Monday
Annual closure: from 2 January 2018 to 24 March 2018
Coupons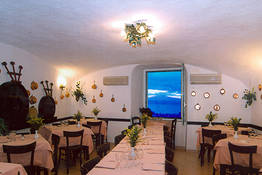 A glass of Limoncello
To round off a nice lunch or a good dinner of Caprese cuisine, the ideal is always a glass of limoncello, one of those home-made with the best lemons of Capri. Eat with us to take advantage the homage!
Free
Valid from 1 April 2017 to 31 October 2017
(Terms and conditions)
Hidden away in the heart of the historic center of Capri, within steps of the Piazzetta, Buca di Bacco is a charming little restaurant, where guests eat in intimate dining rooms, under the vaulted ceilings characteristic of the island's oldest buildings.
Spoilt for choice
A quick glance at the menu and you'll see why just so many islanders and visitors to Capri choose to dine at the Buca di Bacco!
The restaurant may be small but the menu certainly isn't!

Book a table at Buca di Bacco and you can expect to be presented with an extensive range of fish and seafood specialities and an impressive choice of local dishes, all made using only the freshest of regional produce. An excellent wine list ensures the perfect accompaniment to every meal.
Don't forget the pizza!
If you're unable to resist the pull of pizza, you'll love Buca di Bacco, where varieties of this most popular of Neapolitan inventions are baked to perfection in a traditional wood burning oven!
Buca di Bacco: TripAdvisor reviews®
Back to the top

Based on 565 recensioni »
pizza da asporto ottima e buon prezzo
Io ed il mio ragazzo siamo stati a Capri per tre giorni e per non spendere molto una sera abbiamo optato per una pizza da asporto. Passeggiando tra i vicoli dietro la piazzetta notiamo delle persone more »
Buona cucina
Abbiamo preso 2 primi ottimo un po' di dispiacere sul prezzo perché pagare 7€ per 0,5 per il vino locale e 2€ per un caffè un po' sopra la media per il resto gentilissimo e cibo buono more »
Pensavo meglio
Viste le recensioni, mi aspettavo qualcosa di più. Pizza buona, ma niente di eccezionale; personale frettoloso con il desiderio di liberare il tavolo. Delusa more »
From the Piazzetta walk through the passageway to Via Longano and within just a few steps, you'll find Buca di Bacco.
192