Capri

Last minute getaways

Lowest-ever rates and unbeatable last minute bargains make a spur-of-the-moment trip to Capri all the more irresistible.

Tired of the daily routine? Stressed-out by work? In need of a few days relaxation in the sun? On a magical Italian island surrounded by the bluest of seas? If the answer is "yes" then this is the section for you!

This is where you'll find all the very latest Last Minute Offers available at the Island of Capri's Hotels, B&B's and guesthouses… NOW!
Next 30 days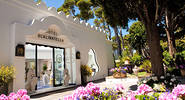 Start your honeymoon with an unforgettable kiss in the famous "Blue Grotto" and stay in the most romantic and exclusive part of Capri island. The package includes: daily full breakfast, a tour of the island by private boat with visit of the "Blue Grotto", a romantic dinner for tw... (details)
Valid from 6 Apr 2015 to 30 Apr 2015
from € 360.00 (per night per room)
To enjoy natural beauties of Capri in Spring time Villa Marina Capri is glad to offer you for a minimum of 3 nights stay one night for free.
Valid from 16 Apr 2015 to 30 Apr 2015
from € 213.00 (per night per room)
Small Boutique Hotels Capri
Includes: 1)Buffet breakfast, VAT 10% and service. 2)Welcome cocktail at " Caffè Morgano" 3)Your favourite newspaper in the morning 4)Free entrance at "Area Hamman" (Turkish bath & Sauna) of the QuisiBeauty, the Spa of Grand Hotel Quisisana. 5)Daily u... (details)
Valid from 26 Apr 2015 to 30 Apr 2015
from € 194.00 (per night per room)
Last 3 available!
Your stay dipending of the availibility of the hotel (economy,standard,sea view standard)include buffet breakfast and we offer the transfert from Capri port to the hotel Is not available the week end
Valid from 26 Apr 2015 to 27 Apr 2015
from € 59.00 (per night per room)
3 nights in double room with breakfast included only 300¤. The offer in valid from Thursday to Sunday in the months of April and May, excluding the weekend May 1th.
Valid from 24 Apr 2015 to 27 Apr 2015
from € 100.00 (per night per room)