The one rule of Capri's traditional cuisine is the quality of the fresh produce grown on the island and the fish caught daily off the coast. Traditional island dishes are based on the freshest local fish and seafood, mozzarella and caciotta cheese, seasonal tomatoes and eggplant, pungent garlic and red pepper, extra virgin olive oil, and fresh herbs including oregano, basil, parsley, and rosemary. Take a look at our tips and recipes below if you would like to recreate the flavors of Capri at home.
Tips for Preparing Dishes from Capri

To ensure your pasta is "al dente" rather than overcooked, drain it from the boiling water a minute or two before the cooking time recommended on the package. Your pasta will finish cooking perfectly while being tossed in the pan with its sauce.
Only use extra virgin olive oil of the highest quality, and fresh herbs.
Grated Parmigiano Reggiano Parmesan cheese is the final touch to your pasta first course, but never used with fish and seafood pasta dishes.
Ravioli capresi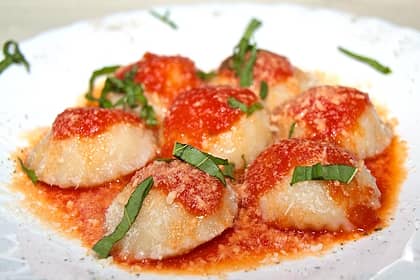 This is the signature dish of the island, filled with caciotta and Parmesan cheese and marjoram. Ravioli Capresi are made in every island kitchen following family recipes handed down from generation to generation. One of the most beloved dishes by locals and visitors, these ravioli are tossed with a fresh tomato sauce or butter and sage, and can be fried and served as an appetizer.
To make the pasta dough, make a mound with the flour. Form a crater and pour the olive oil and hot water into it, and begin working the flour and liquids together until it forms a firm dough. In a bowl, beat the eggsand add the caciotta and parmesan cheeses and the fresh marjoram. Divide the pasta dough into four equal parts, and roll out one portion on a floured surface with a rolling pin until it is a thin sheet. Place teaspoonfuls of the cheese mixture on half the sheet, placing them about 6 cm apart. Fold the other half of the sheet over to cover the filling. Cut a 4 - 5 cm circle around each mound of filling with a pasta cutter or the rim of a glass to form the ravioli. Repeat with the rest of the dough.
Place the ravioli to side, resting on a flour-dusted flat surface or clean cloth and not overlapping. Cook them for five minutes in boiling water and serve topped with a fresh tomato sauce (see recipe below for Chiummenzana), Parmesan, and a pinch of fresh basil. Or, fry the ravioli in hot oil until golden and serve hot.
You can buy fresh ravioli capresi online directly from the island. Order now!
Ingredients for 4 people

For the pasta: 500 g flour, 2 Tbs olive oil, 500 ml boiling water
For the filling: 300 g grated Caciotta di Sorrento cheese, 2 eggs, 200 g grated Parmesan cheese, marjoram
For the sauce: Chiummenzana sauce, grated parmesan cheese, fresh basil, olive oil
Chiummenzana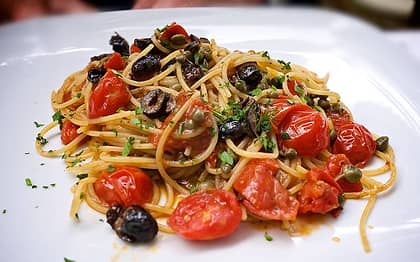 Chiummenzana is a traditional tomato sauce made with fresh tomatoes and Mediterranean herbs. Quick and easy, Chiummenzana is the common sauce on the island for pasta or ravioli (boiled or fried), but can also be used as a base for meat casserole. To prepare Chiummenzana, heat 2 to 3 teaspoons of extra virgin olive oil in a skillet and saute the garlic and red pepper flakes. Add the fresh tomatoes cut into to large chunks and a pinch of fresh oregano and basil and let simmer about 15 minutes. In the meantime, cook your pasta in salted boiling water until "al dente", drain, and toss with the sauce.
Ingredients for 4 people

400 g pasta
3-4 fresh large tomatoes or 10-12 cherry tomatoes, chopped
Garlic
Chili pepper flakes
Fresh oregano and basil
Aumm Aumm Pasta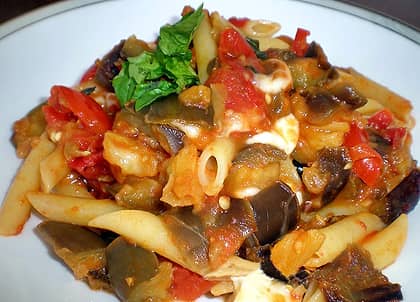 This classic summer dish is made with summer vegetables, mozzarella, and basil. Dice the eggplant and saute in olive oil. Drain off the excess oil and set aside. Saute the garlic in a skillet and add the halved cherry tomatoes and wine. Saute for 5 minutes over high heat, then remove from heat and add the eggplant. Toss with pennette cooked "al dente", add the diced cheese and the fresh basil, mix, and serve hot.
Ingredients for 4 people

400 . Pennette pasta
1/2 k eggplant
10 cherry tomatoes, halved
500 g Mozzarella di Bufala or Fiordilatte cheese, diced
Garlic and extra virgin olive oil
1 glass white wine
Totani e patate (cuttlefish and potatoes)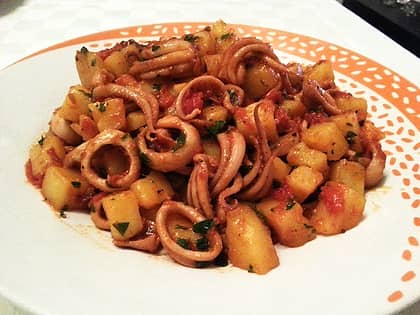 Similar to squid but with a stronger taste, cuttlefish are caught at night off the shores of Capri and are one of the staples of seafood dishes. On summer evenings, you can watch the flickering lights of the boats on the waters offshore catching cuttlefish. This dish is served with a slice of toasted bread to soak up the flavorful sauce. Saute the garlic and red pepper flakes in a ceramic or terracotta pan, add the cuttlefish cut into rings and cook for 5 more minutes. Add the white wine and, once it has evaporated, the tomatoes and half a cup of water. Cook for 20 minutes, then add the diced potato and two more cups of water, cover the pan, and finish cooking. Serve with fresh parsley.
Ingredients for 4 people

1 k of cuttlefish sliced into rings
1 k potatoes, diced
4-5 cherry tomatoes, halved
1 cup white wine
Garlic
Olive oil
Red pepper flakes
Parsley
Totani ripieni (stuffed cuttlefish)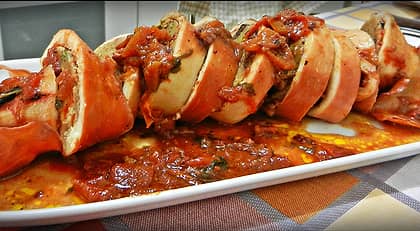 This cuttlefish dish can be served as a first or second course. Clean the fish and remove its tentacles, being careful to keep the body intact to stuff. In a pan, saute the garlic and chopped tentacles in olive oil. Once cooked, combine the eggs, Parmesan, caciotta, chopped parsley, and cuttlefish tentacles in a bowl. Stuff each cuttlefish body with this mixture and close with a toothpick. Simmer the stuffed cuttlefish in tomato sauce in a skillet for 20 minutes.
Ingredients for 4 people

1 k of cuttlefish
500 g chopped tomatoes
100 g grated Caciotta cheese
100 g grated Parmesan cheese
4 eggs
Garlic
Olive oil
Parsley
Pezzogna all'acqua pazza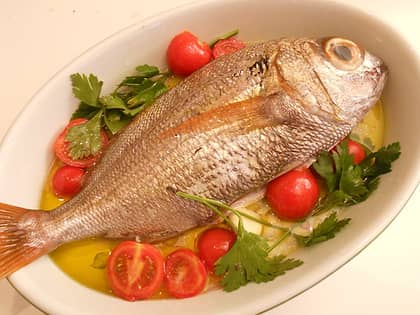 Pezzogna (sea bream, also known as "occhione" or "walleye" because of the size of its eyes) is fished from the Bay of Naples and highly prized for its flavorful flesh. Here, the whole fish is stewed "all'acqua pazza", a broth based on ripe Mediterraenan tomatoes. Clean the fish and set aside. Saute the garlic and red pepper flakes in a large frying and add the tomatoes, fish, white wine, and a cup of water. Simmer, covered, for 20 minutes. Serve immediately, with the pungent broth liquid.
Ingredients for 4 people

1 pezzogna (about 800 g)
7-8 cherry tomatoes, halved
1 cup white wine
Red pepper flakes
Garlic and olive oil
Parsley
Marinated Anchovies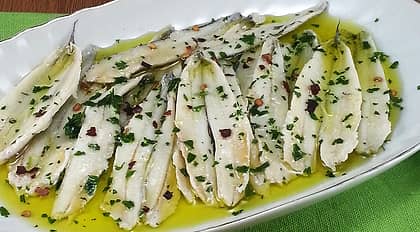 Marinated anchovies are a traditional antipasto on the island, easy and quick to prepare. They will keep for a few days in the fridge if covered with oil. Carefully wash the anchovies under running water, removing the heads. Gut, fillet, and place in a single layer on a plate. Cover with vinegar and leave to marinate for two hours. Remove from the marinade, drain, and dress with olive oil and finely chopped garlic, red pepper flakes, and parsley.
Ingredients for 4 people

1 k fresh anchovies
1 l white wine vinegar
Garlic and red pepper flakes
Olive oil and parsley
Caponata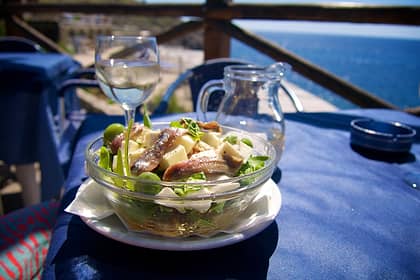 Caponata is a wonderfully light summer dish, made with dry bread, seasonal vegetables, and fresh basil. In addition, Caponata can be customized to your taste with anything you may have left over in the cupboard or fridge: cheese, olives, lettuce, arugula, tuna, sardines, anchovies, eggplant, pickles, artichoke hearts, or canned sweet corn. Soak the dried bread in ample salted water for 2 to 3 minutes until soft. Chop all the other ingredients and mix in a salad bowl. Add the bread and extra virgin olive oil, toss, and season to taste.
Ingredients for 4 people

5-6 freselle crackers (or slices of dry bread)
Tomatoes or cherry tomatoes, chopped
Mozzarella di Bufala or Fiordilatte cheese, diced
Black and Green Olives, chopped
Extra virgin olive oil
Fresh basil
Caprese Salad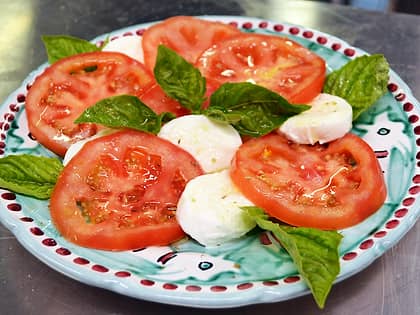 The most famous salad from the island is prepared with Capri's flavorful summer tomatoes and the freshest buffalo mozzarella, dressed in extra virgin olive oil. Simply slice the the tomatoes and the mozzarella and arrange them on a plate, alternating between a slice of cheese and a slice of tomato. Drizzle with olive oil and sprinkle with chopped fresh basil, a pinch of oregano, and salt. If you are setting off on a boat trip around the island or taking a hike along a coastal trail, these ingredients can be used to fill a "panino caprese", perfect for lunch al fresco.
Ingredients for 4 people

Capri tomatoes, ripe but firm
Mozzarella di Bufala or Fiordilatte cheese
Extra virgin olive oil
Fresh basil, oregano, salt
Torta caprese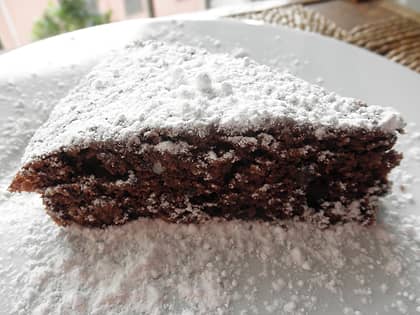 This delicious almond and chocolate cake is an island tradition and its most beloved dessert. Cream the butter and sugar, then beat in the egg yolks one at a time, and mix well. Add the almonds and the melted dark chocolate.
Whip the egg whites and carefully fold them into the batter, then pout it into a greased and floured 26 cm cake tin and bake at 160° for 45 minutes.
Ingredients

350 g chopped almonds
350 g sugar
260 g butter
200 g dark chocolate, melted
7 eggs
Limoncello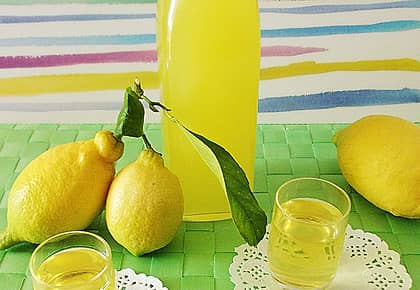 Limoncello is a refreshing liqueur made with Capri's organic lemons. There are a number of shops selling Limoncello on the island, but if you would like to make your own, the recipe is surprisingly simple (though it requires a bit of patience!).
Wipe the lemons down with a damp cloth and remove the zest, leaving the bitter white part of the peel. Infuse the lemon zest in the alcohol for about three weeks in a tightly sealed jar away from direct light. Shake the jar every few days, and after three weeks, filter the liquid through a fine sieve or clean cheescloth. Make a simple syrup by boiling the water and sugar for 15 minutes. Cool and add to the lemon infusion. Let the mixture rest for 10 days and then pour into bottles. Limoncello can be kept at room temperature for up to 3 years, and is best served freezing cold in tiny glasses as an after dinner drink.
Ingredients for about 2 liters of Limoncello

10 organic lemons
1 l of alcohol (95°)
1 l water
1 k sugar